Brian Ulibarri
This is my portfolio of work I am focusing on mainly portraits, realism and some trash polka work. If you are interested in getting some work done by me, contact me as soon as possible as I am booking new appointments daily.
email: brian.ulibarri@gmail.com
Instagram: @brian_ulibarri
personal blog: DenverCustomInk.com
Tattoos
Thank you for looking at my work. Below is everything you will need to know for booking an appointment with me. I do get quite a few inquiries daily but I do my best with getting back to all of you with in a day or two so please be patient.
**For serious inquiries only**
Things you need to know:
I don't tattoo on Sundays, Mondays so I would need to know what days of the week are good for you during daytime hours usually I start at 11:am.
I  do ask for a $200 deposit to book an appointment this does go towards your first tattoo session. If you are booking multiple sessions you only need to pay this once. Should something come up you can reschedule if I have 48 hours notice and your deposit is still good, if it is less notice than that you can still reschedule but your first deposit will be lost and you will need to pay another deposit. All deposits  are sent to your email from PayPal.  You can pay with any card you don't need an account.
I only work on designs after you set an appointment and I receive the deposite. I would like to get designs out to people early but with the schedule I keep the only thing I can guarantee is 
the week of the appointment

.
Since I am only at the shop by appointment I don't do any in person consultations, submission by email is much more organized and efficient for me since it's impossible for me to remember everything you say during a face to face consultation or to look back on notes 6-9 months down the road.
I do get cancellations so if you contact me for a tattoo I will first look through my cancellation dates which could be very soon so please be prepared for that when contacting me. I do also post open cancellation dates so be sure to follow me on Facebook and Instagram to see those, which are first come, first serve.
I stopped taking cover up tattoos so I can have a shorter waiting period for my clients that want new work that closer fits my style of art which is mostly realism and portraits. I love movie themed tattoos!
My rate is $150 an hour *cash only*
What I need from you:
A written description of your idea with any reference pics I might need.
A clear straight on photo of the area you want tattooed with a tape measure next to the area so I know how big to design the tattoo. I do not tattoo any private areas (this means any area where underclothing would have to be removed, backs are fine)
I will need to know your availability for weekday appointments starting at 11:am if you you can only do Saturdays please let me know, your wait time will most likely be longer.
Please be sure to include your cell number in your submission email
I will look at your submission and let you know within a day or two and we'll go from there 😉
email to: brian.ulibarri@gmail.com
For those of you who do book an appointment, I know sometimes it can be a long wait for the both of us. I do respect the fact that you have waited to get tattooed by me. I do know things come up that are unexpected for you and for me as well so please let me know as soon as possible if you need to reschedule and I will do the same. No call no shows will not be rescheduled.
A few things to remember for the day of your appointment:
Please be on time but there is no need to be early, I am only at the shop by appointment so I only get to the shop early enough to setup for the tattoo.
It's perfectly fine to bring a friend or two but if its a busy day we prefer only one friend to accompany you in the tattooing area. Also no animals are permitted to be in the shop do to health code regulations.
Also please eat a good meal before you come in. Your bodies blood sugar goes down when getting tattooed which can cause you to feel jittery and light headed.
I tattoo at:
Old Larimer Street Tattoos
2229 Larimer st.
Denver co, 80205
There is $4 parking across the street from the shop
Art
Inktober 2016
Prints of ALL artwork is now available by request, prints will be mailed out with in 24 hours during weekdays.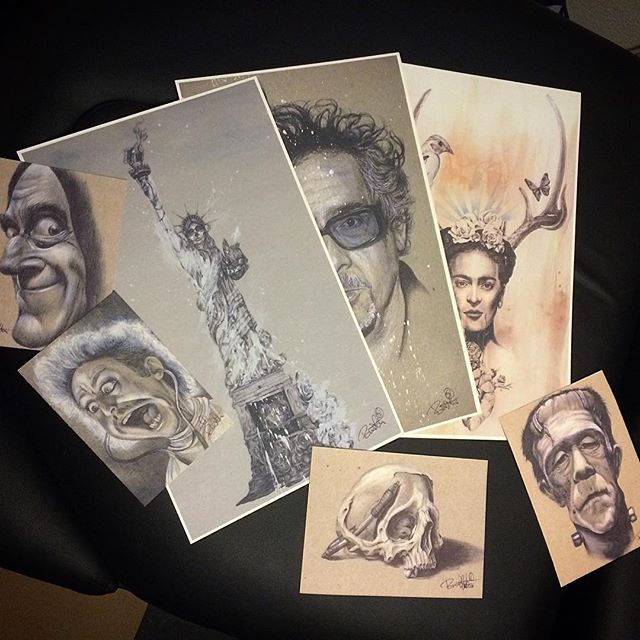 11 X 14 – $20
5 X 7 – $15
4 X 6 – $10
To place orders email brian.ulibarri@gmail.com
"Lauryn Hill"
This was a birthday present for my lovely wife who I owe so much to. This is a ball point pen drawing with watercolor on a wood plank.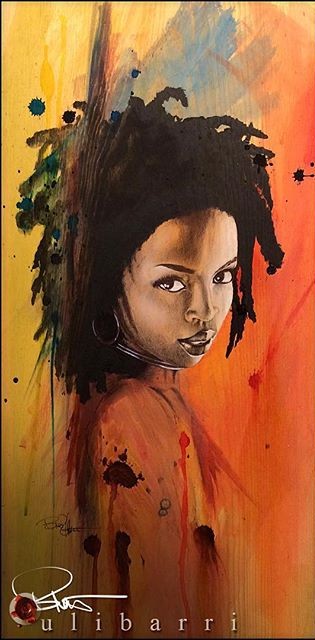 "Ready to Paint"
This is my second oil painting done for Urban's Tattoo Studio in Arlington Texas. I'll be guest spotting there: July 1st, 2nd & 3rd 2016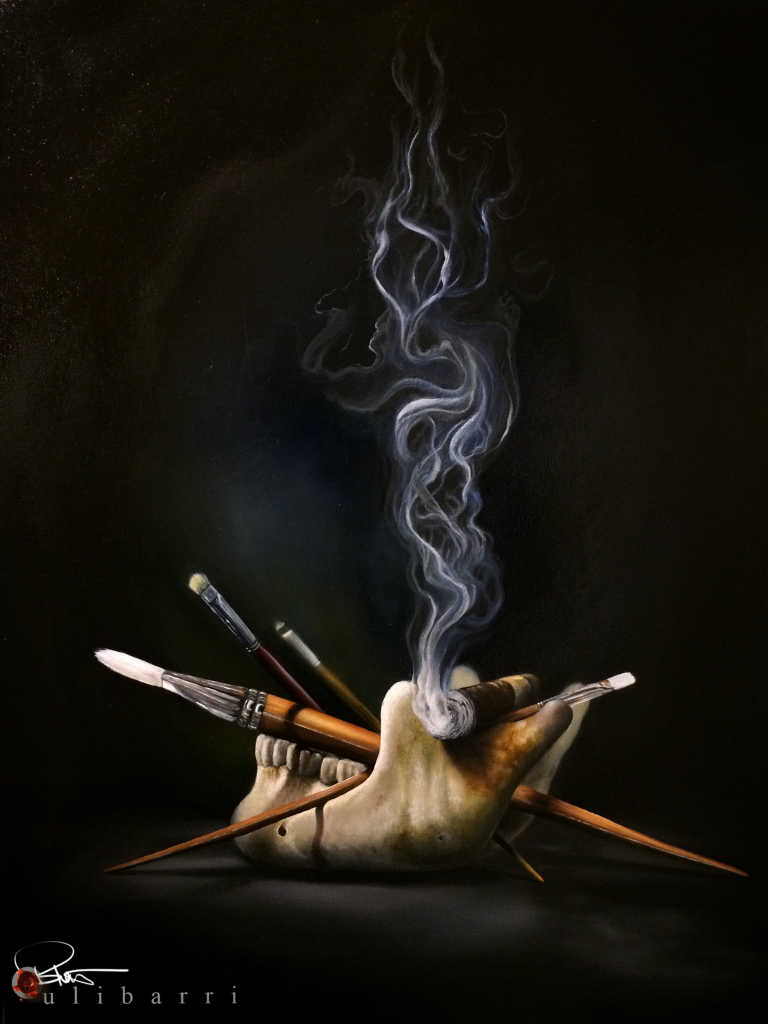 Self Portrait & Morely Church
This is my very first Oil Painting I did for an art exhibit called "Sinner Saints & Self-Portraits" at CHAC Art Gallery opening July 1st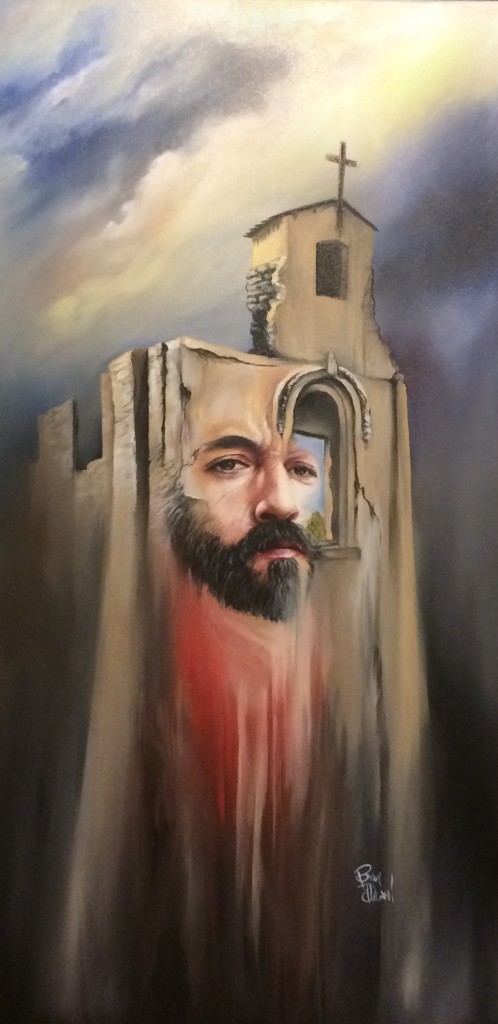 Bruce Willis
Bruce Willis from the Butch Coolidge character in Pulp Fiction. Aside from him being another story of personal inspiration to me and being awesome; I drew this for my oldest son who is a huge fan of him: 8×10 ballpoint pen on halftone illustration board.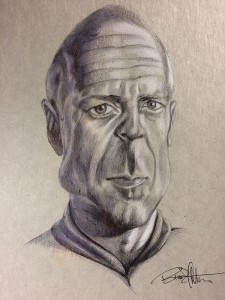 Jim Carrey
Pen Drawing of the great Jim Carrey, he is a family favorite for sure but especially to my daughter who I drew this for. If you haven't heard him talk about his father and the lesson he had taught him about doing what you love and not what's practical, it's very inspiring.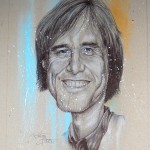 Tim Burton
Another pen drawing with some added colored pencil and paint splashes for some extra style. I am going to do a series of inspirational figures of all media in no particular order Tim Burton definitely fits that category!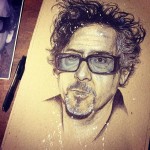 Inktober 2015
Inktober is a fun artist challenge to try to do one ink drawing a day for the entire month of October. Easier said then done! I came up a little short but these were my favorites and will be for sale soon…
Viviendos Sueno Americanos
A mixed media piece with water color, and ballpoint pen.
The first experiment of this particular style and this combination of mixed media. I intended it to be a full water color with a little pen drawing in it but ounce I started with the pen I couldn't stop I love the high contrast of the black and white…
I am originally from Raton New Mexico and have lived in Denver since 1997. I have always been a traditional media artist, drawing and painting all my life. A ball point pen, acrylic and watercolor is what I'm best at. I like to do portraits and surrealism with lots of detail. I started tattooing in 2006 apprenticing at a local shop where I worked for three years. I am a tattoo artist by appointment only now and I travel for conventions and guest spots as well. I design most everything I tattoo. I am only focusing on a few styles at the moment: realism, trash polka, painterly style, surrealistic, new school, big custom pieces and portraits are my favorite… If your interested in submitting an idea let me know as soon as possible to make an appointment…..
email: brian.ulibarri@gmail.com